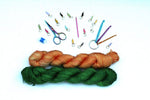 11 BASIC MATERIALS THAT EVERY KNITTER NEEDS
Knitting can be a wonderful experience but also frustrating if you don't have the right tools and accessories.
In this post I will tell you what cannot be missing in your knitting kit, whether you are a beginner or an expert ** .
WOOL (OR OTHER FIBER TO KNIT)
In the market you can find an infinite variety of fibers for weaving ( in this post I will tell you more about the composition of the fibers ). In the specialized stores they range from inexpensive commercial brand synthetic fibers to the most luxurious hand-dyed wools by hand.
Whatever fiber you choose, make sure you have enough for the project you want to knit. For the most experienced knitters it may seem like a no-brainer, but hand-dyed yarns vary in each dyeing process and, although to a lesser extent, commercial ones as well.
It is very important that you make sure to buy all the wool of the same dye and thus avoid possible changes in tone that will disadvantage the final fabric.
NEEDLES
There are needles for all tastes and pockets (straight, circular, double-pointed, fixed, interchangeable, metallic, wooden, bamboo...). But beware, not all are valid for everything or for everyone.
The straight needles They are only used for flat knitting (scarves, knitted jumpers…). They are usually 12 to 16 inches long, making them impractical for really big projects like shawls or blankets.
You will also find in the market double pointed needles . These are used for small circumferences such as socks, cuffs or the crown of hats. They are sets of 5 needles of 10cm, 15cm or 20cm in length and also of different materials.
Circular needles are the most versatile. They consist of two points joined by a cable that can be fixed or interchangeable. The most common tips range from 10 to 13cm, but you can already find 5cm or 8cm tips on the market which, together with short cables, are perfect for small circumferences such as socks, mittens and cuffs. If you find it uncomfortable to knit with tips and cables so small, you can use a long cable and the MAGIC LOOP technique (I'll do a post about it soon).
The wide variety of cable lengths, from 10cm to 1.5m, make them ideal for weaving both small and very large projects. AND
There are needles for all tastes and I recommend that you try until you find the ones that best suit you and your way of knitting.
I knit a lot and with a wide variety of fibers, so I have different sets of interchangeable circular needles and I use them according to my needs.
I recommend the ones I like the most from the ones I have:
Knitpro Simphonie : if you are a beginner or you are going to knit with very slippery materials. They are made of wood, which slows down the fiber a bit and makes it more difficult for the stitches to escape. In addition, they have the tip with just the right sharpness to be able to weave comfortably, but without pricking the thread.
Knitpro Zinc : they are metallic and slide more than the Knitpro Simphonie but with the comfort of a point with just the right sharpness to continue knitting comfortably.
ChiaoGoo Twist : my favourites. It's the needles I couldn't live without. They are metallic, they weigh little, their wire has no memory so it doesn't twist (it's the best I've tried without a doubt), they slide a lot and they have a sharp point that's perfect for openwork knitting addicts like me. In addition, you can find cases with a multitude of tips and cables of different lengths.
Among the latter, we find:
ChiaoGoo Twist lace case with tips from 2.75mm to 10mm that is useful for everything that is not socks. You can choose between a tip length of 10cm or 13cm. Personally I chose the 10cm one because I have a small hand and it is more practical for me. In addition, I bought the 3mm tip because it is an American brand and this measure does not exist there and another 4mm tip that is the one I use the most for shawls.
ChiaoGoo Twist Shorties S case with 2 sets of tips from 3.5mm to 5mm (a 5cm set and another 8cm set). It works great for cuffs, collars and hats. The 8cm ones have become my favorite length.
ChiaoGoo Twist Shorties (minis) case with 2 sets of tips from 2mm to 3.25mm (a 5cm set and another 8cm set). I don't have this case yet, but next Christmas I'll get it because it's ideal for knitting socks and cuffs, collars and hats with finer fibers.
MEASURING TAPE
a tape measure it is essential both to measure the tension of your swatch (the number of stitches and rows in 10cm) and to know how far you have to knit (there are many patterns that indicate the measurements in cm, for example "knit 10cm in stocking stitch ").
POINT MARKERS
serve for Score points details of the pattern, separating repetitions of some instructions, indicating where to increase in a raglan or simply differentiating the right side from the wrong side of the work, among other things.
There are many types of bookmarks on the market, from simple metal rings to the most elaborate decorated pendants. I recommend you have some padlock markers simple that always come in handy both to mark the key points of the fabric and to rescue a lost stitch and even make braids.
SCISSORS
Nails scissors to cut the thread at the end of the work. You can use any scissors, but small ones that fit in the bag where you carry the accessories are always good. Also, you can find some really pretty ones that will delight any knitter.
YARN NEEDLE
A yarn needle Thick with a rounded tip and a large buttonhole, it is the basic tool to finish off the ends at the end of knitting or to sew the different pieces of a garment.
NEEDLE CAPS
It is very easy for stitches to slip off the needles when you put your work on hold. Some plugs They will save you from a bad time by taking up lost points.
NEEDLE
I always carry a set of mini crochet hooks in my work bag to pick up the stitches or correct mistakes. Thanks to them I have saved myself many times from undoing entire passes.
LAP COUNTER
To keep track of the project you are knitting, it is essential to have an accountant manual laps , a lap counter App on the mobile phone or a piece of paper and a pen. This way you will always know where you left off when you resume work.
POINT KEEPER
The point guard They're like giant safety pins to help you put points on hold safely. They come in a multitude of sizes depending on how many points you have to put.
WORK BAG
Both to keep the work safe at home and to take it for a walk and knit anywhere, a good labor bag is essential. You can choose from a multitude of sizes, closures, with pockets, with adjustable handles.
My advice: choose the one that best suits the size of the work and make sure it has an inside pocket to store the accessories and the pattern .
Now that you know what the basic materials are for any knitter, you can start preparing or expanding your kit to start knitting without missing anything.
** The links that you have found throughout the post are affiliate links (I take a small commission for each sale that is made through them) so, if you buy from any of them, you help me cover the expenses of the blog .
Knitting is an act of love so
Knit a lot!
Visit my hand-dyed yarn shop by clicking HERE
Subscribe to the newsletter by clicking HERE to receive the latest news, notices when a post is published on the blog, gifts and find out before anyone else about everything that is to come at Aitana Villa Knits.
You can see my designs on Ravelry by clicking HERE.
To see my INSTAGRAM profile click HERE .