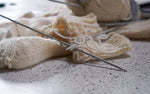 Fiber types by composition
THE WORLD OF FIBERS Vol.1:
TYPES OF FIBERS ACCORDING TO THEIR ORIGIN
Wool, alpaca, silk, merino, mohair, tencel, bamboo, cotton, rayon, nylon…. When I started knitting I was really overwhelmed by all the types of fibers on the market. What was each one and what could he use them for?
If you are at that point or simply want to delve a little deeper into the subject, I have prepared a series of posts in which I will tell you in detail everything I have learned in these years about fibers so that you can choose with peace of mind at all times. which one best suits you and your project.
The fibers can be classified according to many criteria (origin, thickness, types of dyeing...) that I will talk about in successive publications.
Today, I will focus on explaining to you above the origin of the most common fibers for weaving so that you get a general idea of ​​the great variety that exists.
There are two large groups of fibers, natural and chemical.
Regarding natural fibers we can distinguish between:
FIBERS OF ANIMAL ORIGIN
The fibers of animal origin are those obtained mainly from the hair (wool) of different breeds of sheep (merino, sheetland, blufaislaister...), of different breeds of goats (mohair, cashmere) and of other animals such as camels, yaks , alpacas, etc
Wool helps us regulate body temperature thanks to its perspiration properties, it is hydrophilic (absorbs moisture keeping the body dry), it does not allow bad odors to proliferate and it is fireproof. In addition, it is a very elastic and resistant fiber, which makes it ideal for any type of garment.
Another animal fiber is silk, which comes from the cocoons of silkworms. It is a fiber with less elasticity than wool but also absorbs moisture. It has a very pleasant dry and soft touch as well as a shine and drape that make it ideal for knitting garments for special occasions, wonderful shawls or luxurious blouses. I admit that it is my fetish fiber so I can tell you in advance that you will find it in various formats in the store.
FIBERS OF VEGETABLE ORIGIN
Plant-based fibers can be obtained from different parts of plants. For example, from the hairs that cover the seeds (cotton), from the seeds (kapok), from the stems (flax, ramie, hemp, jute, bamboo), from the foliage (pineapple, abaca) or from the shells (coconut). .
Vegetable fibers are generally less elastic than those of animal origin, although they absorb moisture well, making them ideal for the hottest months of the year.
Regarding chemical fibers we can distinguish between :
SEMI-SYNTHETIC OR ARTIFICIAL FIBERS
Semi-synthetic or artificial fibers are obtained from the chemical processing of natural materials such as cellulose. Tencel and Rayon are examples of this type of fiber.
SYNTHETIC FIBERS
Synthetic fibers are obtained from the synthesis of substances derived from petroleum through a polymerization process.
They are stronger, easier to maintain and cheaper than natural fibers, but they are also very harmful to the environment.
Within this category we find polyester, nylon or artificial silk, among others.
Now you know a little more about the composition of the fibers. In other publications I will tell you in more detail about animal fibers and their mixtures.
Knitting is an act of love so
Knit a lot!
Visit my hand-dyed yarn shop by clicking HERE
Subscribe to the newsletter by clicking HERE to receive the latest news, notices when a post is published on the blog, gifts and find out before anyone else about everything that is to come at Aitana Villa Knits.
You can see my designs on Ravelry by clicking HERE.
To see my INSTAGRAM profile click HERE .