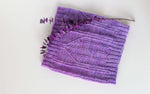 Memole Cowl, today you will reach the final goal!
Today you will get the third and final installment of the Memole cowl.
Wait a moment. I know you have been knitting crazily all week, quick quick, so you can reach the final goal today, and you need to recover some of your strength. Let's have a fruit smoothie o an energy bar which I got from my husband (this will be our secret) and you will have your strength back in order to finish the cowl.
Today I will give you the third installment of the Memole cowl and I am opening a new section "KTT: Knitting Tricks and Techniques" where I will be explaining to you how to block the cowl. Are you ready? Let's get to it.
---
THIRD INSTALLMENT
The third installment of the Memole cowl is here (you will find it after this small explanation). And I have a little something extra for you. I will explain you how to block it properly once you finish it.
HERE you can find the first installment, with all the information about the gauge swatch, the materials you will need, the abbreviations, …
In the second installment I gave you the cast on instructions and the first 2 sections of the cowl. You can find it by clicking HERE.
I would love to see your progress on Instagram. Share your photos with the hashtag #MemoleCowl #AitanaVillaDesigns @sugarwoolly, in this way everyone will be able to see the final cowl and knit one.
Moreover, if you subscribe to my newsletter by clicking HERE, you will get a code to download the final pattern (with diagrams, photos, and links to helpful sites) completely free on Ravelry.
I hope you have enjoyed knitting the Memole cowl (I would love you to tell me about your experience in the comment box below). It has been a pleasure to share those special moments with you.
SECTION 3
Rnd1: *p6, SM, 1/1 RC, k1, p1, 1/1 RC, k1, SM, p12, SM, 1/1 RC, k1, RM, p1, 1/1 RC, k1, p1, RM, 1/1 RC, k1, SM, p12, SM, 1/1 RC, k1, p1, 1/1 RC, k1, repeat from * to BOR.
Rnd2: *k6, SM, k1, 1/1 LC, p1, k1, 1/1 LC, SM, k12, SM, (k1, 1/1 LC, p1)x2, k1, 1/1 LC, SM, k12, SM, k1, 1/1 LC, p1, k1, 1/1 LC, repeat from * to BOR.
Rnd3: *p6, SM, 1/1 RC, k1, p1, 1/1 RC, k1, SM, p12, SM, (1/1 RC, k1, p1)X2, 1/1 RC, k1, SM, p12, SM, 1/1 RC, k1, p1, 1/1 RC, k1, repeat from * to BOR.
Work Rnd1 and then Rnd2-3 3 times in total or until 1,6" (4cm) less than the desired length.
RIBBING
Rnd1: *k3, p2, repeat from * to BOR.
Rnd2-8: repeat Rnd1.
BIND OFF
Bind off all sts in pattern.
FINISHING AND BLOCKING
Block according to finished measurements: 9,84" (25 cm) wide (measured in plane) * 11" (28cm) height. Weave in the ends.
---
KTT: KNITTING TRICKS AND TECHNIQUES
HOW TO BLOCK THE MEMOLE COWL
I know that the first thing you will ask me is: do I really need to block it?
Well, sometimes it is essential, other times it is advisable and sometimes (like when you work with 100% acrylic fibers) it is not very useful.
In this case it is advisable to give the proper final shape, this is due to the fact that in different sections of the cowl we have used different stitches. And we have made some increases and decreases in section 2.
You need:
The finished Memole neck (hahahahaha)
A container
Cold water
Special wool soap
A towel
A surface

where you can stick pins

Blocking pins

A measuring tape
The steps you need to follow in order to block the Memole cowl:
In a proper container add some cold water and a few drops of the special soap for wool.

Immerse the cowl and "knead" it a little with love so that the water penetrates well into the fibers.

Let it rest for half an hour.

Take it out of the water, squeeze it lightly with your hands, without twisting it, to take out as much water as possible.

Lay it down on a table and roll it carefully, press it with your hands so the towel absorbs as much water as possible. This step will help the cowl to dry quicker.

Place the cowl on a blocking surface and, with the help of the measuring tape, extend it in order to get the final measures.

Fix it with pins, be careful that the four corners are straight.

When it is completly dry, take out the pins, weave in the ends and it is ready to be used.
Knitting is an act of love;

therefore, I wish you knit a lot!
To receive all the latest novelties, notices when I publish new posts on my blog, gifts and to get news about Aitana Villa Knits before anyone else, subscribe to my newsletter by clicking HERE.
To discover my designs on Ravelry, click HERE.
To check-out my Instagram profile, click HERE.