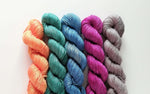 NEWS, NEWS, I AM DYING OF EXCITEMENT
OPENING OF THE ONLINE STORE
July 16, 2021
www.aitanavillaknits.com
Yes that is right! In a few weeks I will open the online store where you will be able to find the yarns that I dye by hand and of which you have already seen a spoiler on Instagram.
It has been months since I started playing with yarn and dyes. During this time, I have tried different bases, dyes and dyeing techniques that have made me fall in love with the process and enjoy it as I have not enjoyed anything else in a long time.
The good feedback from some knitting friends who have been asking me for yarns, the feedback I have had when I shared garments knitted with my yarns on Instagram, and the desire to continue growing in this knitting world have made me decide to move forward with this project that had been in my head for a long time.
What was going to be an online store of patterns and kits has mutated into a yarn store that will also have patterns and kits later on. In fact, it's going to be more than that.
Precisely one of the things that I am enjoying the most in this process is seeing how the project takes paths that I discarded from the start.
If I learned one thing in my previous company, it is that projects have a life of their own and there is no point in setting immovable limits on them. They are like babies that are growing, whom you guide, but who develop their own personality.
This is how I feel, as a future mother pregnant with a baby of whom I only know the sex and whom I know I will love and take care of with all my energy.
And as a good mom, I already have the name of all the bases that are going to be launched next July 16th.
Do you want to know them?
I'm sure you do.
Since the seed of creating this project jelled in my head, I made the decision that the center of everything would be women. Not only because most of the people who knit are women, but because I firmly believe in SORORITY, in making ourselves visible and in giving us the value we deserve.
That is why all the bases that you will find in the store are named after women who have stood out in their field.
HYPATIA
(for Hypatia of Alexandria, mathematician and astronomer of the School of Alexandria): 75% merino superwash, 25% nylon, fingering weight 452m / 100g.
AUGUSTA
(for Augusta Ada Byron, considered the first programmer in history): 50% merino superwash, 50% tencel, fingering weight (almost a sport weight) 350m / 100g.
EMMY
(for Emmy Noether, one of the most relevant mathematics in history): 100% Mulberry grade A silk, fingering weight 400m / 100g.
INGE
(for Inge Lehmann, the first seismologist to affirm that the earth is composed of a solid part and a liquid part): 80% merino superwash, 20% nylon, DK weight, 243m / 100g.
For now, sign up for the opening date
July 16th, 2021
and, if you have not subscribed to the newsletter,
run to sign up HERE,
when the store opens, belonging to the subscription list
will have a prize!
Knitting is an act of love;
therefore, I wish you knit a lot!
To receive all the latest novelties, notices when I publish new posts on my blog, gifts and to get news about Aitana Villa Knits before anyone else, subscribe to my newsletter by clicking HERE.
To discover my designs on Ravelry, click HERE.
To check-out my Instagram profile, click HERE.