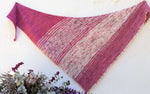 PICOT BIND OFF, SAINT GEORGES DAY AND A SHAWL AS PRETTY AS A ROSE
Welcome!
Today is Saint Georges Day in Catalonia so I invited a Catalan indie dyer and we will toast with a glass of ratafía to celebrate the day love, of books and of roses and to knit a beautiful picot bind off.
---
TODAY WE WILL HAVE A CUP OF TEA RATAFÍA AND WE WILL KNIT WITH AITANA VILLA…
LAIA FROM SOC UNA TROCA

How and when did you start to dye yarn?
As a wedding present, someone gifted me a spinning wheel, and at that moment I started both spinning wool and dyeing with natural dyes. During the crisis of 2008 I was put out of my work, like so many people, and I took the time to do research and experiment in depth with wool and pigments.
How did you make the leap to dedicate yourself to dyeing yarn professionally?
There was not a specific moment in which I decided to dedicate myself in a professional way, rather I was finding opportunities that let me to it. I could say that for me a great moment in which there was no turning back was the first Barcelona Knits Festival: until then @socunatroca was an extra, and from that moment it became my main work.
What inspires you to create your colours?
Huff! Throughout! Sometimes I create colour in a very cognitive way, deciding which colour I want to use with which, and sometimes I think of a subject, an image or an object, and I wonder what colours it transmits to me. I like to look at day-to-day things, sometimes I am inspired by songs, by flowers I see on my walks, or even the things I see on the news.
What is your fetish fibre?
I am unable to keep just one! Obviously I really like merino, silk, and this type of more popular fibres. But I really enjoy working with fibres that are more "from the ground", those of the lesser-known sheep breeds, those used to knit socks, or sailor's sweaters, for example, those of daily use and those which have really been used by humanity for thousands of years.
How has the pandemic affected your company?
The truth is I cannot complain. I really miss the fairs and the encounters with knitters. But, since we were confined, I have had many assignments. Knitters have not stopped creating things! In addition, I believe that many have decided to support local dyers more and that has been noticed not only at the business level, but, above all, at the level of personal treatment and the environment I live in. I think that if after the pandemic we manage to maintain this spirit, the knitting world will be very envious!
Can you introduce us the fibres I have used for the design?
Ondine is a super special base for me. Until I found it, the truth is that silk did not attract me at all. But if you try to knit with that base, half silk and half merino, everything else will feel less special to you! I like it a lot because it is a very high quality base and it is locally produced, and that is not easy to find. Knitting it is a pleasure, the drape that it gives to the pieces is spectacular, and wearing it is a luxury.
The colours Pink no. 8 and Bouquet contrast very well, one is semi-solid and the other has a white base with little speckles. They both have pink as the predominant colour, but without being pastel or mannered. To be honest, I never liked pink, but I am in love with those two!
When you were a child, what did you want to be as an adult?
I think I always wanted to be in the world of music, I learned to read and write scores rather than lyrics. In fact, I studied various instruments, and I am a musicologist. Although my work now is wool, from time to time I still do things related to music.
What would you have yourself in 20 years?
I think I would be so freaked out that words would not come out, hihihi! Well, seriously I would surely ask myself if I am happy, and if I am happy with the path that I have chosen.
If you could travel in time, where would you go: to the pass or to the future?
To the past without hesitation, history is exciting! I would like to know how the day to day was lived at different times and places. I think we know sooooo little about it.
Which animal would you like to be and why?
A sheep, of course! Now that the good weather is coming, but it is still not hot, if you lay in the sun well wrapped in wool, that warmth is so rich… I have always thought that sheep must feel that every day. What envy!
How would your perfect day be?
I think it would have to be a long day, in which I had time to play with colours for a while, go for a walk and find beautiful flowers to photograph, knit for a good amount time while watching a series, meet friends, be with family, and enjoy my partner's cooking, which is amazing!
---
AITANA VILLA DESIGN:
TAKE IT EASY COLLECTION Vol.2
With the quality of Ondine from @socunatroca I have knitted the second design of the TAKE IT EASY collection. It is a spectacularly smooth base and the colours are pure love.
It is a triangular shawl in which different slip stitches are worked. If you have not used this technique before you have to try it, it is addictive !!!
The picot bind off is the final touch to a romantic and loving shawl.
---
TTT: KNITTING TRICKS AND TECHNIQUES
HOW TO MAKE A PICOT BIND OFF
Picot bind off is another one of my favourite bind offs. It is more laborious than the Yarn Over Bind Off that I showed you last Friday, but it is really worth the work because of the beautiful result. Knitting this bind off like meditating for me.
Watch the video and fall in love with the result.
Knitting is an act of love;
therefore, I wish you knit a lot!