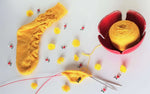 This past week I have enjoyed more than ever of my daily walks with my daughter. We could see flowers everywhere, we could smell them and we could enjoy of the big variety colours, all this has given me a big boost of energy every day. All the colours make me constantly think about hand dyed yarns and I get a lot of inspiration from it.

Since a few months I have been dying yarn as a hobby and I find it really thrilling. To accomplish truly the colour I am looking for has its own mystery. This lemon yellow was created by me when I was looking to dye a mustard colour on a 75% merino 25% nylon base.

When I saw it dry I thought of giving it one more dye bath, however I felt the colour was so beautiful and vibrant that I decided to leave it as it was and to find the combination to dye the mustard colour on some new yarns.

However just as spring began I could not resist myself from casting on a new project with the wonderful lemon yellow I dyed. I decided to use this floral colour to knit some socks designed by Lola Dacosta, which I had already seen and loved previously.

Well, well. Where are my manners? Get comfortable and have a glass of lemon juice with ginger made with lemons from my garden. Would you like some anise fritters? They are my downfall.
Today I want to talk to you about a project which has been going on for one year. A project which was born with the intention to help, with the purpose to contribute a little to those uncertain times.

When last year some of the yarn festivals started to get postponed and finally a lockdown was announced, I decided to invests on hand dyed yarn made by indie dyers. The first idea I had was to create an ebook with patterns, which I wanted to publish last fall. This was impossible to do as I had three kids at home, on lockdown, and this did not give me much space nor much time to get my creativity flowing.

After that I decided to publish the patterns one by one, but I did not really like this idea.

Finally, I got an idea: why not make a collection of simple patterns, suitable for both beginner and advanced knitters, with the objective to bring the world of hand-dyed wool closer to all knitters?

During the next few weeks I will be introducing to you the patterns, but as well the indie dyers who have been part of the "Take it easy" collection. I will also show you some of the technical videos which will be included in the collection.

And talking about techniques…
KTT: Knitting tricks and techniques
In March, on my blog I published the pattern of the Memole Cowl.
HERE you can find the first installment, with all the information about the gauge swatch, the materials you will need, the abbreviations, …
In the second installment I gave you the cast on instructions and the first 2 sections of the cowl. You can find it by clicking HERE.
In the third installment I explained the instructions for section 3, bind off ans how to block your cowl. HERE.
Today I bring to you two videos (in my youtube channel "Aitana Villa Knits") in which you can see how to knit the stitches used in this pattern. The slip stitches and how to knit under loose strand . and the 2 stitches cables (you can see how to do them with and without and extra needle) .
Next Monday the subscribers to my newsletter will receive a code to download the pattern on Ravelry, freely. Therefore if you want to receive the pattern you are still on time to subscribe to my newsletter HERE.
Knitting is an act of love;

therefore, I wish you knit a lot!
To receive all the latest novelties, notices when I publish new posts on my blog, gifts and to get news about Aitana Villa Knits before anyone else, subscribe to my newsletter by clicking HERE.
To discover my designs on Ravelry, click HERE.
To check-out my Instagram profile, click HERE.