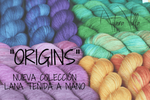 The origin of the "Origins" wool collection
The origin of the "Origins" wool collection
Color accompanies me every day, whether I'm knitting, designing or dyeing wool, and being able to create my own colors fascinates me.
Creating this collection has been a wonderful challenge that I have enjoyed every moment.
The "Origins" collection is entirely developed from 4 colors (cyan, magenta, yellow and black). With them I have created semi-solid, multicolored (varigated) and speckled colors.
How do you read it! with only 4 colors a whole collection.
Origins Collection – Hypatia base in the colors (front to back): Pineapple 2, Salmon 2, Carrot Fields, Intense Cherry
And you will wonder, with the number of colors there are, why use only 4?
The reality is that I could have used many more, but I wanted to pay my little tribute to my father, Benito, the person I admire the most in the world and who has always supported me in all my projects (crazy or not) and who is always there. to hold endless conversations about everything and nothing, to give respectful advice, to teach me how to make a glass box with the Tiffany technique, to remind me how to cook chicken with prawns, what ISO to set on the camera, how to make a formula for Excel or prepare us all the best French fries in the world (called Benitas).
Many years ago he worked in a textile printing company formulating colors. This would not seem extraordinary if it were not for the fact that my father is color blind (he does not distinguish colors well and confuses them). I have heard countless times how he prepared the formulas without perceiving the color, how he added a quantity of blue, another of red and another of yellow to achieve that color and also how he sometimes rolled it up. He was also a craftsman working glass with the Tiffany technique, creating very beautiful jewelry and going to fairs.
I won't tell you about the thousand and one professions my father has had because this post would take forever, but these two are the inspiration for the "Origins" collection.
Created from those four colors that he used in printing to give rise to a multitude of tones and nuances like those that we can find in the crystals that he used to create his Tiffany pieces.
At Origins you will find, among others, autumnal tones to fade up to 6 skeins, a wide range of yellows, oranges, pinks, reds, blues, lilacs, greens, browns and grays so you can choose your favorite colors and weave any project. .
And to help you do this, I have created a new Instagram profile, @aitanavillayarns , in which I will show you all the colors of the collection and precious combinations so that you can enjoy every moment of knitting your projects.
Origins Collection – Hypatia base in the colors (front to back): Roses Garden, Warm Love, Autumn Foliage, Sigbeet 2.
I will launch the Origins collection in my online store on the weekend of November 6 , coinciding with my participation in the Barcelona Knits Festival .
All the colors of the collection will be available on the bases:
Hypatia : 75% super wash merino, 25% nylon, 425m/100g.
Hypatia DK : 75% super wash merino, 25% nylon, 225m/100g.
There will be some colors of the collection available on the bases:
Lise (50% merino superwash, 50% silk 400m/100g)
Barbara (65% merino super wash, 20% bamboo, 15% silk 400m/100g)
Augusta (50% Tencel, 50% Merino Superwash 333m/100g)
Emmy (100% mulberry silk 400m/100g)
Origins Collection – Hypatia base on the wall of sin from Miss Kits Barcelona and Miss Kits Madrid.
Knitting is an act of love so
Knit a lot!
Visit my hand-dyed yarn shop by clicking HERE
Subscribe to the newsletter by clicking HERE to receive the latest news, notices when a post is published on the blog, gifts and find out before anyone else about everything that is to come at Aitana Villa Knits.
You can see my designs on Ravelry by clicking HERE.
To see my INSTAGRAM profiles click on @aitanavillaknits or @aitanavillalayarns