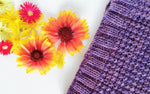 THE TAKE IT EASY COLLECTION CONTINUES TO GROW WITH A COLLAR AND DYED YARNS
Welcome. This week I want to tell you about the 4th project of the TAKE IT EASY collection, a cowl knitted with wool from @tintica.yarns, and I will teach you how to bind off stitches as they are presented and we will chat with Aida from @tintica.yarns.
I have prepared a very special tea that @cerezadelimon gave me at the #swapbeltane2021. In this Instagram post I show to you all the gifts I received. If you have never participated, I recommend it. It is a fantastic experience.
---
AITANA VILLA DESIGN:
TAKE IT EASY COLLECTION Vol.4
For this collection of easy accessories "TAKE IT EASY" I found it interesting to include a circular knitted design, which was very simple and reversible. It is a cowl knitted with worsted yarn weight from @tintica.
It begins and ends with an elastic section and the body of the cowl uses only knit and purl stitches. It is simple, warm and adaptable. I have knitted it with one skein but if you knit it with 2 you will have a very soft cowl, ideal for the coldest days.
---
KTT: KNITTING TRICKS AND TECHNIQUES
BINDING OFF STITCHES AS PRESENTED (ELASTIC 2×2)
The binding off is the last step we take when knitting a garment. Then we will have to block and wave in ends but the bind off is the last one we make with knitting needles. A well-made bind off is the final touch to our work, but if we do not choose the right one or do not execute it well, we will have a poorly polished garment.
When we work a 2×2 elastic like in this cowl, we are only looking for a small level of elasticity. Therefore, binding off the stitches as they are presented is the best option, both to achieve the right elasticity and so that the beginning and end of the cowl are visually as similar as possible.
If you need to bind off your garment with a lot of elasticity (for example a half moon shawl, some socks, etc.) I recommend other types of bind offs such as the YARN OVER BIND OFF or JUDY'S SUPER ELASTIC BIND OFF.
To bind off the stitches as they are presented, we will work as in a classic bind off but knitting the stitches as we find them, following the sequence of the elastic. The knit stitches knit-wise and the purl stitches purl-wise.
I have prepared a video for you with the step by step tutorial. I hope this can help you. Watch the video HERE.
---
TODAY WE WILL HAVE A CUP OF TEA AND WE WILL KNIT WITH AITANA VILLA… AIDA FROM @TINTICA.YARNS

How and when did you start to dye yarn?
I started dyeing with acid dyes for fun and dyeing my own yarn. One day I tried dyeing with avocado pits. It was horrible! But I fell in love with the process and I really got into natural dyeing.
How did you make the leap to dedicate yourself to dyeing yarn professionally?
My process has been quite progressive, although I knew that it was unavoidable to make it a fulltime thing.
What inspires you to create your colours?
I try to know more and more in depth the colours that nature provides me and I constantly make it more challenging for myself.
What is your fetish fibre?
Mohair.
How has the pandemic affected your company?
It has been quite strange, in the sense that things have gone quite unpredictable. But I cannot complain at all, in fact I feel that during the pandemic I have grown, and during this last year I have learned a lot.
Can you show us the fibres I have used for the design?
It is a very special yarn: extra fine Spanish merino wool with a reduced superwash treatment. It is smooth, light, but with a good definition.
When you were a child, what did you want to be as an adult?
I wanted to be my best friend's "partner", without any further specifications!
What would you ask yourself in 20 years?
Have you already learned from your repetitive mistakes?
If you could travel in time, where would you go: to the pass or to the future?
To the future.
Which animal would you like to be and why?
I would like to be a dog. Pure life!
How would your perfect day be?
Toasts with butter and honey and coffee, a walk in the woods, working on orders, spending the afternoon with my daughter and a little knitting at night. Quite my day to day, I would only add someone who would come to clean the house … Hihihihi
Knitting is an act of love;
therefore, I wish you knit a lot!
To receive all the latest novelties, notices when I publish new posts on my blog, gifts and to get news about Aitana Villa Knits before anyone else, subscribe to my newsletter by clicking HERE.
To discover my designs on Ravelry, click HERE.
To check-out my Instagram profile, click HERE.