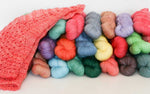 I present to you the "Aitana Villa Club"
Welcome to my house. Today I want to explain something very special to you. Have a cup of tea and sit down, it will be a little longer than the usual posts but I assure you that it is worth it.
Last week I told you that from July 16 my hand-dyed yarns will be available in the new online store www.aitanavillaknits.com . In this post you can learn about the fibers that you can find when the day comes. I also dropped that there would be a club.
Yes, yes, you read that right, a club, the Aitana Villa Club (AV Club for friends)
The Aitana Villa Club has been on my mind for months, in fact, it is the first idea that came to mind when I decided to go one step further in the world of two needles.
Let's look back.
When I picked up needles a few years ago, I found myself completely lost. I was alone in my house, with health problems that prevented me from going out, and with no one close to me who knew how to weave or had knowledge of fibers.
The first thing I did is ask the oracle "Google" and little by little I discovered blogs and YouTube channels that talked about weaving techniques, different stitches, etc. But I have to say, each one from their mother and father, and of course the majority in English.
Despite the good quality content that I found, I realized that it did not suit me. I was missing a single space and not having to browse thousands of sites to find the answer, a structure in the content and being able to have a progressive progress, but for that I needed someone to guide me.
And not only that, but that person gave me enough confidence to be able to ask him any question, no matter how silly it seemed, without fear of being judged, knowing that he would answer me and explain it to me as many times as necessary so that I could understand it. .
Another problem I ran into was the materials. I promise you that the first time I wanted to buy wool online I almost got something. I spent hours and hours browsing, seeing compositions that I didn't know. Until then, for me, the fibers that existed were wool and cotton!
The thicknesses also brought me upside down because I saw that different needle numbers were recommended for balls of the same weight and length and that did not fit my squared head in any way. Based on looking for information and learning from many sources, luckily, he entered.
If you feel minimally identified with my story and want to advance in the fabric, the Aitana Villa Club is for you.
With the Aitana Villa Club I wanted to create a learning space where you can empower yourself as a weaver. I want you to lose your fear of patterns with graphics, patterns in English, that you know how to choose the best material and that's why I'll help you take firm and safe steps and I'll hold your hand whenever you need it.
What exactly does the AV Club consist of?
The Aitana Villa Club is an "all in one". In one place you will find training, materials, support, community and resources.
a pattern
A design designed from start to finish to work on specific techniques that will vary from one edition to another. Always keeping in mind that the pattern is the vehicle for you to learn in an organic way and with all the support you need.
Normally they will be shawl patterns of 1 or 2 skeins, although there will also be other types of accessories, larger shawls and, later, some garment.
The materials to weave the design
As I have told you, the objective of the AV Club is for you to become an autonomous and self-sufficient weaver, and that happens by knowing the different fibers and trying them. That is why the AV Club will include the necessary fiber to weave the design on which it works.
In each edition there will be a different fiber and/or dyed with a different technique. Thanks to this, you will learn to choose the most suitable type of fiber and dye for each project.
A course
People come to the AV Club, among other things, to learn. So in each edition there will be a course on the pattern and the fibers that are included. You will be able to find technical information, step-by-step videos to complete your project without problem, instructions on how to block the garment and much more.
Access to a Facebook group
This will be the place to meet and chat daily in which to share progress and doubts with me and with the other members of the AV Club.
A direct email
If there is something that you do not understand despite the videos and having asked in the group or if you prefer to ask me privately for whatever reason, you can write me an email. I will answer you by email, I will send you an audio or I will make a video, I will be there for you so that you understand it and you can move it forward.
Additional BONUSES in each edition
One or more master classes
In each edition you will find recorded classes on specific topics. For example, how to make tension samples that are really useful, how to substitute fibers, how to read graphs and many more topics.
So that the master classes are as useful as possible for the participants of each edition, I will do surveys in which you can tell me what you would be interested in learning about.
One or more Zoom meetings
It is about learning, but also about having fun, enjoying yourself and creating a supportive community. So we'll do zoom sessions where we can see each other's faces, knit for a while and chat.
raffles
In each edition there will be a raffle among the people who have finished the project on time and meet a couple of other requirements. The prize will be surprise... or not.
What else can I tell you about the Aitana Villa Club?
The duration of each edition will depend on the project being worked on . It is about being able to learn at your own pace without rushing. For example, the first Club design is a one skein shawl and will last a little over a month. However, the pool will remain open for a few weeks in case someone is left behind.
You will have access to the course material forever
You will know the fibers, the colors, the design, the start date and the duration beforehand. In addition, you will see the woven design in the different color options so that you can choose the one that best suits your tastes.
The pattern will be written in Spanish with Spanish abbreviations, but you will also have a version of the instructions in English so that you become familiar with the terms and abbreviations that are used.
The units of the Aitana Villa Club will be limited and will be put on sale for a period of 15 days (or until the available units run out) one month before the start of that edition, since I will dye the colors according to demand.
The Aitana Villa Club is not a subscription and its price will vary depending on the material used in each edition . It does not have the same cost to knit a project with

a skein of merino wool as a project of 3 skeins of 100% silk.
---
---

Knitting is an act of love so
Knit a lot!
Visit my hand-dyed yarn shop by clicking HERE
Subscribe to the newsletter by clicking HERE to receive the latest news, notices when a post is published on the blog, gifts and find out before anyone else about everything that is to come at Aitana Villa Knits.
You can see my designs on Ravelry by clicking HERE.
To see my INSTAGRAM profile click HERE .