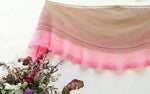 YARN OVER BIND OFF AND A CUP OF TEA WITH GEMMA FROM YARNITAS
Hello, hello! It is a nice and sunny day today, so we can sit and knit under the fid tree. In this way our dogs will be able to play while we talk and I show to you how to make one of my favourite bind off, the yarn over one.

By the way, were you able to answer to the questionnaire I sent you on Monday? No? Do not worry, it is active until Sunday, and at the end of the questionnaire you get a link to download the pattern of the Memole Cowl for free. So do not forget about it.

Look who has arrived!
---
TODAY WE WILL HAVE A CUP OF TEA AND WE WILL KNIT WITH AITANA VILLA…
GEMMA OF YARNITAS

How and when did you start to dye yarn?
To start a brand of hand dyed yarns using plants was something that came very organically to me as a professional. I have been knitting for more than 15 years and I have been a blogger for around 10 years, and by that time it had been long since I have been working on my own as a crafter. Before Yarnitas began I was already interested by minimalism and natural products. I felt that there was gap in the market for naturally dyed yarns with which to knit more sustainably. Therefore I spent many months learning and experimenting until I finally opened my online shop. This year it will be three years since I started this adventure.
How did you make the leap to dedicate yourself to dyeing yarn professionally?
My idea was always to sell the yarn I dyed, since that gives me the opportunity to experiment with different bases, processes, colours,… I do not thing that I would be able to use all the yarn I dye for my knits, not even in a lifetime, hahaha. Moreover, as I have mentioned previously, I think there are many brands of hand dyed yarns (big and small), but very few who dye will natural plant-based colours.
What inspires you to create your colours?
Everything that surrounds me is a source of inspiration, but I get inspiration especially from nature and from the moments that make me feel good. For example, I have colours that are named after my favourite cake, specific times of the year that bring me a lot of happiness, emotions… All the colours that I dye mean something to me, and I try not to make any that I do not like or that I would not use myself.
What is your fetish fibre?
It is very difficult to choose just one! I would say that alpaca and silk are my favourites. I have always thought that Alpaca is very special, it has a wonderful drape and texture, as well as being a very warm fibre despite its thin weight. And silk has that unique shine that makes you fall in love.
How has the pandemic affected your company?
Surviving this last year has been really difficult. A large part of the sales that most of the indie dyers make comes from the fairs, and that has disappeared. Everything has been reduced to online sales. The buyers like to touch the skeins, enjoy seeing other colleagues and attend the classes that are offered during the fairs. Although it is clear that right now we have no other option than selling online, the experience for the buyer is not the same. We have had to bear the loss of the investment we made for these events (in some cases the returns have taken more than six months to arrive, in other cases they have never arrived). And let's not forget that no matter how hard you try to grow your brand on social networks, there is always an algorithm that does not help, so it has not been easy. But here we continue, holding on.
Can you show us the fibres I have used for the design
The Mellow DK is no longer available, but a good substitute would be the Dolly quality, so I am telling you about it and about the Silky Mohair. I have a lot of affection for these two fibres for different reasons. Dolly was one of the last to join the family of yarns I offer and from the beginning it has enchanted the knitters. And no wonder! I think it is my current favourite. It has a unique combination of fibres: alpaca, linen and silk. When you work with it you get a super soft, fluffy, shiny and full-bodied fabric. That is why it is perfect for many different types of projects. And I love its touch with the skin. And our Silky Mohair is a classic. This base has changed since the beginning of Yarnitas. I was lucky to find a mohair with silk that had a higher percentage of mohair than the one which is sold usually, and most importantly, the supplier was national. For me, the process that our bases follow from the sheep until I have them at home and they are dyed is very important, that is why it makes me very happy when I find bases like this.
When you were a child, what did you want to be as an adult
I think I wanted to be a vet, hahaha. Actually, I wanted to be a dog veterinarian, but rather what I wanted was to be surrounded by dogs of all kinds all day. I did not become a veterinarian, but it is true that I live surrounded by many dogs (this gives us content for another story).
What would you have yourself in 20 years?
I would ask myself if I have been happy dedicating myself to this, and I hope the answer is yes! At the moment, it is 🙂
If you could travel in time, where would you go: to the pass or to the future?
Without a doubt, to the past. It wouldn't change anything, but it would surely relive some moments. I prefer it if the future continues as it is: being a mystery.
Which animal would you like to be and why?
If I were an animal, I would be a bird. Being able to fly has to be something wonderful.
How would your perfect day be?
A perfect day for me includes long walks with our dog, having a coffee in my favourite place, spending some time reading or learning something new and then knitting a lot and without stopping for hours!
---
AITANA VILLA DESIGN:
TAKE IT EASY COLLECTION Vol.1
And now that you have met Gemma, I would like to show you the first design of the TAKE IT EASY project.
This collection is intended to be simple, affordable for almost any knitter and seeks to enhance the beauty of hand-dyed yarn.
This is the shawl I have knitted with a skein of Mellow DK and one of Silk Mohair from Yarnitas.
It is shaped like a crescent and is worked in stockinette stitch combining one or two strands.
The final ruffle makes, despite its simplicity, the shawl fun and interesting. A delight for any beginner who wants to knit with mohair for the first time.
---
KTT: KNITTING TRICKS AND TECHNIQUES
HOW TO MAKE A YARN OVER BIND OFF
Something very important when knitting a shawl and that will determine that the result is optimal (or a disaster), is the binding off.
Shawls usually need to be blocked properly, especially some shapes like the crescent shawl, or if the shawl has some lace details. If the bind off method we use is not elastic enough we will find a fabric that does not have room to grow, that wrinkles and does not maintain its shape.
Luckily there are many ways to achieve that elasticity.
The simplest is to change the needle to a larger number and close the stitches as presented in the pattern.
Another method, which is the ones I like the most, is the Yarn Over Bind Off.
It consists of closing a stitch, passing strand / yarn over, then closing the stitch that we just created with the strand and repeating until the end.
Another day I will tell you about more elastic bind offs. For the mean time I am sharing with you a small video with which you can learn to do the Yarn Over Bind Off and never again the closure of a shawl will be tight.
Knitting is an act of love;

therefore, I wish you knit a lot!
To receive all the latest novelties, notices when I publish new posts on my blog, gifts and to get news about Aitana Villa Knits before anyone else, subscribe to my newsletter by clicking HERE.
To discover my designs on Ravelry, click HERE.
To check-out my Instagram profile, click HERE.